God burdened my heart over 2017 for God's men. As an evangelist, it is my heart to see God's men and their churches reach the visions the Lord has given them. Many times I hear from preachers & their wives who feel alone and/or wish they had another preacher or preacher's wife somewhere with a similar story they could talk with. Or we hear from others who feel exhausted and are looking for some encouragement. Oasis was birthed from these needs we saw. This is not a "how big is your church" or "let me tell you why you are not doing it right" conference. This is simply a conference for preachers, their wives, and anyone in church leadership that would like to grow in the Lord and find encouragement. Our desire is to leave with new friends, a new fire, and new prayer partners as we look to make a difference in 2018. We all are on the same team and need each other in ministry!
The conference dates and details are below and we would love for you to join us! We will have sessions for preachers, their wives, folks in music at church, as well as those you serve with the youth departments at the church. We are believing God to help us and stir our hearts for revival in these few days together at Oasis!
There is no cost for this conference! In order to prepare for lunch and seating, please still register below with your name and how many will be coming with you.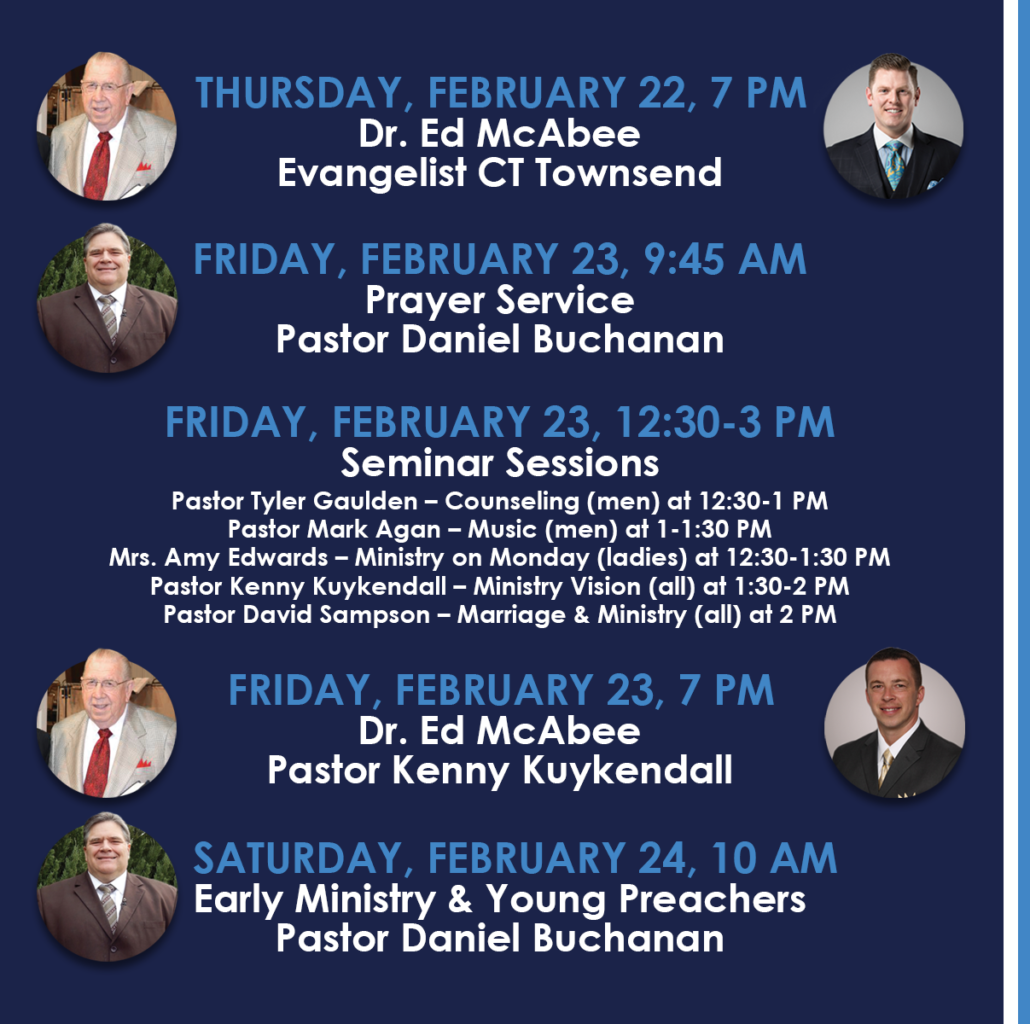 Thursday, February 22
7:00 PM
Dr. Ed McAbee sharing ministry wisdom
Evangelist CT Townsend preaching
Church Street Baptist Church Choir
Friday, February 23
9:00 AM – All About Youth with Evangelist Heath Williams
9:45 AM – Prayer Service with Pastor Daniel Buchanan
10:15 AM – Morning Service with Pastor Daniel Buchanan
11:30 AM – Lunch
12:30-3:00 PM – Seminar Sessions
12:30-1:00 PM: Counseling with Pastor Tyler Gaulden (men)
1:00-1:30 PM: Music with Pastor Mark Agan (men)
12:30-1:30 PM: Ministry on Monday with Mrs. Amy Edwards (ladies)
1:30-2 PM: Ministry Vision with Pastor Kenny Kuykendall (all)
2:00-3:00 PM: Marriage & Ministry with Pastor David Sampson (all)
7:00 PM
Dr. Ed McAbee sharing ministry wisdom
Pastor Kenny Kuykendall preaching
Church Street Baptist Church Choir
Saturday, February 24
10:00 AM – Early Ministry & Young Preachers with Pastor Daniel Buchanan
11:30 AM – Out for lunch for all who'd like to join
Discounted Oasis Conference pricing can be found at the following hotel:
Comfort Suites
1102 Sedalia Crossing Lane
Whitsett, NC 27377
(336) 449-5161
Hotel website: Comfort Suites